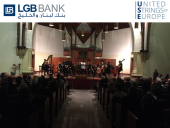 LGB BANK sponsors a concert in AUB's "Assembly Hall"
LGB BANK sponsored "O Sweet Night", a musical evening hosted by the Faculty of Arts and Sciences held at the Assembly Hall in the American University of Beirut in the presence of a large crowd of personalities, professors and students.
The United Strings of Europe Orchestra kept a great audience entertained, along with musicians from the Conservatoire, accompanied by a number of sopranos and tenors.
"The Bank is at the forefront of the cultural and artistic activities, as it believes in the utmost importance of culture and how it can positively influence all generations in general and university students in particular, not to mention its significant contribution to the intellectual and academic development", stated Samer Itani, Vice-President and CEO of LGB BANK.