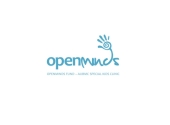 LGB BANK sponsors the annual OpenMinds Gala Dinner
LGB BANK sponsors the annual OpenMinds Gala Dinner
Itani: "We invest our proficiency in the service of our lofty goals"
LGB BANK, has sponsored the fifth annual OpenMinds Gala dinner which took place at Biel amidst a large crowd of political and social figures.
OpenMinds has significant achievements in the field of diagnosis and treatment working in partnership with the AUBMC Special Kids Clinic (ASKC) at the American University of Beirut Medical Center.
"OpenMinds' noble aim is ensuring that special children become functioning members of our society. The Bank promises to continue its support towards building a society of equal rights and obligations," stated Samer Itani, Vice Chairman and CEO of LGB BANK.
Against this background, LGB BANK sponsors and supports a large number of activities and events in various sectors, especially social and humanitarian associations. The Bank has pledged to provide all that proves to be necessary in order to ensure their success and the realization of their worthwhile goals.